Courtesy of FilmInquiry.com, review of the film written by film critic Alex Lines
"There is a theory that you're painting the air between your eye and your subject." Tigran Tsitoghdzyan mentions in regards to his attitude towards painting. This statement kicks off another direction of conversation between the New York based Armenian artist and one of his more well-known subjects, Oscar-winning actressSusan Sarandon, whose loose, often theoretically rhetorical discussion forms the slight spine for American Mirror – Intimations of Immortality.
Helmed by Spanish American film maker Arthur Balder, who has an extended history of profiling other artists, American Mirror eschews any traditional documentary formats when attempting to align Balder's own film theory digressions alongside the scattered memories of his main subject, which makes for a mystifying, if not wholly fascinating experiment which probes the role of art, and its timeless quality, in a world which demands instant gratification and beauty in perfection.
A Meeting of Icons
From the beginning we understand that there is a perfectionist quality to Tsitoghdzyan's work, and understandably so, as the 43 year-old's career begun at the young age of 10, but this is not information you'll learn from Balder's documentary.
American Mirror actually begins with Sarandon, whose wardrobe is as white as the vast canvas' that litter Tsitoghdzyan's apartment walls, entering the artist's enclosed workspace, where she is to see a rough sketch of herself. Her genuine reaction is one of instant pleasure – as she quickly mentions, there's a significant difference between having your visage reflected upon the silver screen thousands of times, compared to the singular artistry of a large-scale, hand-drawn facial sketch.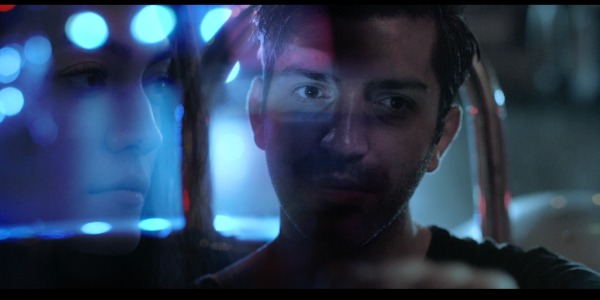 You've probably seen at least one piece of Tsitoghdzyan's art in your life and maybe not have realised it; his prominent style is to recreate photos of close-up facial portraits with monochrome, hyper-realistic pencil-drawn pieces, which are then overlayed with the model's hands, covering their face with their facial features bleeding through.
They're strikingly original, as is the documentary they're featured within, but again, this film isn't so much about the art themselves then what the art represents in an allegorical sense, especially in shifting socio-political landscape where social media has become the dominant creator and curator of art (a hefty topic I recently discussed with British documentarian Phil Grabsky).
A Scattered Structure
Inbetween each new pencil stroke, Sarandon and Tsitoghdzyan exchange and debate meditations on life, art, memories and her life of being a well-regarded actress, which provide the most intriguing nuggets of information as the Hollywood leading lady candidly talks about her own insecurities and how her perception of her personal and projected identity has formed over time. It's an unusual but rare collision of two wildly different artists, but their passion and understanding of their individualistic contributions to their own respective art-forms makes for a suitable partnership, avoiding any hagiographic praise of each other or their contemporaries.
As much as it's starting to sound like one, this isn't just a off-beat podcast brought to life; these discussions often bleed into – or are arbitrarily punctuated by– a scattered mixture of 'sense memories' (terminology sourced from the film's press kit), recreations of unremarkable moments from Tsitoghdzyan's life, whether it's a late-night game of table tennis, a silent encounter with an interested blonde at a bar, walking the streets of New York, all culminating in an extended neon-soaked Lost Highway riff, where all these vignettes are messily collated alongside a long twilight drive to nowhere, which begs to be critically analysed more than enjoyed, as it feels like a definitive summary – of what exactly eludes me still.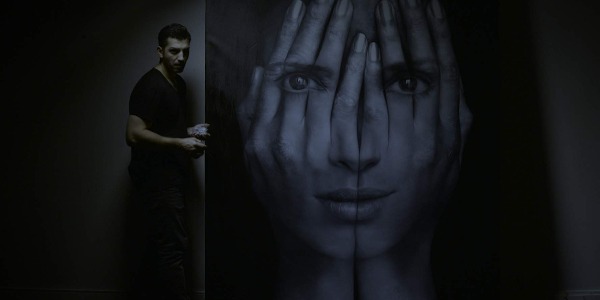 As a fractured mosaic of brooding introspection, abstract memory play and candid celebrity interview, it's hard to define American Mirror. In terms of influence, it's part Maysles Brothers, part early Kopple, stirred together with a healthy dose of David Lynch, both in his documentary and transcendent narrative filmography. Lynchian sensibilities have often been described as "easy to recognise and hard to define" (as succinctly defined by critic Kevin B. Lee), which best delineates the experience of watching this one hour feature.
All the basic documentary elements are here; fly-on-the-wall footage, impromptu behind the scenes dailies, high-definition displays of Tsitoghdzyan's art and dramatic recreations that are all pieced together by Mark Petrie & Andrew Prahlow's salient orchestral score, but all these components are heavily reworked into an unremarkable shape – it's like most pieces of art that hang in a public gallery, intriguing to view but esoteric in meaning.
Conclusion
Art alone is complicated, so it's only sensible that an appropriate translation of the headspace of a sophisticated artist would be as equally perplexing. American Memory – Intimation of Immortality is a strange beast of a feature, an undefinable fever dream of artistic memories and clashing personalities that definitely shrugs off any expected genre conventions.
There's certainly a paradox in capturing portraits which are themselves artistic emulations, but there's a lingering, finely-drawn intelligence to Arthur Balder's hallucinogenic compilation, one which welcomes many readings no matter how you look at it, which I truly feel best reflects the work of it's central subjects.